Maui News – https://mauinow.com/2014/08/28/fast-track-approval-sought-for-senior-housing-project-in-pukalani/
The Maui Land Use Committee will conduct a site inspection in Pukalani next week as they consider the proposed construction of a 61-unit senior affordable housing project.
The county Department of Housing and Human Concerns is proposing the construction of the Hale Maha'olu ʻEwalu Senior Residential Housing Project on four acres of land within the Kulamalu Commercial subdivision developed by the Dowling Company.
The site inspection runs from 10 to 11 a.m. on Wednesday, Sept. 3, 2014, and will include an opportunity for the public to provide testimony.
Committee members will gather on ʻŌhiʻa Kū Street, about 50 yards mauka of the southeast corner of its intersection with ʻŌhiʻa Lehua Place in the Kulamalu subdivision.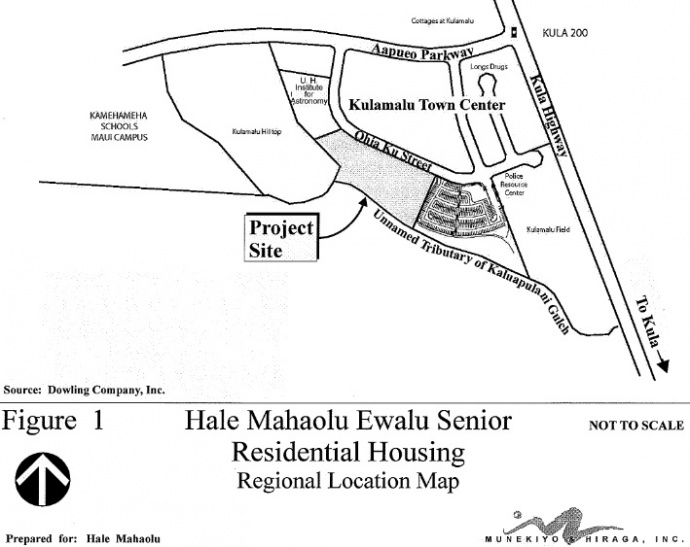 The site inspection will be followed by a separate meeting in the Council Chamber in Wailuku at 1:30 p.m., during which the public will have another opportunity to testify.
"I am pleased the committee has been presented with an affordable housing proposal to address the demands of our aging population," said Committee Cahir Robert Carroll in a press release statement today. "The committee now has the difficult task of considering proposed exemptions and, if necessary, modifications to the project, and whether the project pencils out in favor of our community at large," he said.
According to a needs assessment contained within a Draft Environmental Assessment, the 40-unit Hale Mahaʻolu ʻEha project on Makawao Avenue is the only rental housing project available to seniors in the Makawao-Pukalani-Kula region. Also, the nearest adult day care center is the Hale Mahaʻolu ʻElima Senior Housing project located approximately 12 miles away in Kahului, the document states.
The project calls for the construction of three two- and three-story apartment buildings containing one- and two-bedroom units for seniors and a three-bedroom unit for a resident manager.
There are also plans for a one-story 7,518 square foot senior center, a single-story 4,428 square foot adult day care center, and 83 parking stalls, according to a draft environmental assessment.
Carroll noted that eligible residents must be at least 62 years old, with income at or below 60% of the area median income.
The Council must act on the proposal by October 9 or within 45 days under state law since it was proposed under "fast track" provisions outlined in Chapter 201H of the Hawaiʻi Revised Statutes.
Under the proposal, if approved, developers would have the opportunity to seek exemptions from certain laws relating to planning, zoning, construction and development.
Carroll noted that within the last year, the Council has approved 102 affordable housing units for the Kahoma Village project in Lahaina and 56 affordable housing units for the Waikapū Gardens Phase II project, via the Chapter 201H process.